The Seiko Kinetic

Someday, all watches will be made this way. That's what Seiko proclaimed in 1970s advertisements for its groundbreaking new product, the quartz watch. Seiko resurrected the slogan in 1995 to promote a groundbreaking improvement on that watch: a system that creates electricity from the movement of the wearer's arm. No battery required.
The watch generates electricity by means of a spinning weight - much like the weight in a self-winding mechanical watch - which is set in motion when the wearer moves his or her arm. A tiny rotor amplifies the rotation of the weight, spinning furiously and generating a magnetic charge. The charge creates electricity, which is stored in a capacitor and used to power the watch. The Seiko Kinetic combines the no-battery, no-wind convenience of the automatic mechanical watch with the accuracy of quartz. Furthermore, there are no toxic batteries to dispose of. It's the best of both worlds.
It isn't just Seiko that thinks so. When Kinetic scored big with consumers, other companies introduced their own motion-powered watches. The Japanese company Citizen makes them. (It doesn't, however, sell them in this country.) The Swiss movement make ETA also introduced motion-powered movements, which it sells to several brands.
So, someday, will all watches be made this way? There's no telling. Motion-powered quartz watches have rivals in the no-battery arena - light-powered ones and even watches that generate energy from the heat of the wearer's wrist. One thing's for sure: consumers will see a feisty battle on the no-battery front.


The Swatch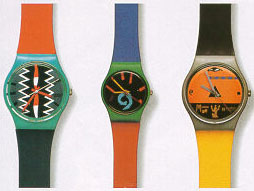 People were pushing their way in, their pockets bulging with bank notes," recalled former Swatch executive Franco Bosisio. "It was really emotional. My public relations person was in tears because it was so intense." That's how Bosisio, former head of the Swatch brand in Italy, described one of the first Sotheby's Swatch auctions in a 1992 interview with the Harvard Business Review.
Stampeding consumers. Teary-eyed flacks. What watch has ever inspired such a manic scene? What watch but Swatch?
The reason: it was different than anything the watch world had seen before. Made of plastic, sporting whacked-out, multi-colored designs on face and strap, so cheap ($35 or less) you could buy a wardrobe of them, Swatch, introduced in 1983, was truly sui generis. You wore it to express your mood, you wore it for fun. You took it off and replaced it with another the same way you changed your shoes or handbag. It was a whole new way of wearing watches.
Consumers went nuts for it. They began collecting Swatches. Some paid tens of thousands of dollars at auction for the rarest ones. Most, though, bought them for a song, wore them for awhile, then went out and bought others. Production hit 50 million Swatches in 1988. 100 million in 1992, 200 million in 1996.
In the meantime, a herd of other brands were trying to emulate Swatch and its success. A new category of watch emerged - the "fashion" watch - relatively inexpensive, sold in department stores, and meant to be worn for a season or two as a fashion accessory. Swatch brought on a second phase of the quartz revolution, where the important thing wasn't what was inside the case, but what was outside.
Watches, and watch wearing, haven't been the same since.