The Patek Philippe Calatrava

An owner of a Patek Philippe Calatrava may think he's bought a study in simplicity. But the watch's history is as complicated as could be. On one hand, the Calatrava is newer than quartz technology. On the other, it's as old as the watch your grandfather wore.
Its story begins in 1932, when the financially troubled Patek Philippe was looking for a fresh start. Patek, then as now the most prestigious watch company in the world, was famous for its exquisitely complicated timepieces. But, thanks to the Depression, it was also on the brink of ruin.
Enter Henri Stern, the 21-year-old son of Charles Stern, one of two brothers who had just bought the company. Believing that a new watch model would help put Patek back on the map, the young Stern designed one. It had a simple, round case, flat bezel and unadorned dial, and contrasted wildly with the eccentric and flamboyant styles of the era. It was a hit. In time, consumers came to associate the brand with this simple, classic case shape more than with any other style. Patek had found a signature look. That look did not yet have a name.
Flash forward to the early 1980's. The vintage wristwatch market was starting to take off. Vintage-watch dealers, looking for names to help them classify and describe various styles of vintage watches, started to use the name "Calatrava" for Patek watches that looked like the breakthrough 1932 watch - ones with round cases, flat bezels and a particular style of lugs - longish, curved and integrated gracefully into the case. They got the name from the company's symbol - an ornate cross used by the Calatrava order of knights in the Middle Ages.
Watches with Calatrava cases were among the hottest items in the vintage market. The auction house Antiquorum credits a 1939 Calatrava-case watch - a platinum model with minute repeater and perpetual calendar - with kicking off the vintage watch frenzy when, in 1981, it brought a price at auction of 185,000 Swiss francs (about $123,000 at today's exchange rate). The same watch was re-sold in 1996 and set a world's record for the highest price ever paid for a wristwatch at auction: 2.09 million Swiss francs (about $1.4 million).
The story's final chapter: in 1984, Patek Philippe introduced an "official" collection of Calatrava watches. With their hobnail bezels and angular lugs, they're different from the original Calatrava, but they are, like it, simple and understated in design - their forebear's spiritual heirs. They're also the brand's best sellers.


The Seiko Astron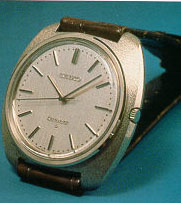 What do you give a harried, time-conscious world for Christmas? How about the most accurate watch it's ever seen? That's what Seiko did. On Dec. 25, 1969, it introduced its 35 SQ Astron, the world's first quartz watch. The Astron sparked a revolution.
Seiko claimed accuracy for its watch to within five seconds a month. By comparison, the best mechanical watches are accurate to within five seconds a month. By comparison, the best mechanical watches are accurate to within only two or three minutes a month. Even tuning fork watches, which until the Astron were the best timekeepers available, were guaranteed to keep time only within one minute per month. The reason the Astron was so accurate was its oscillator, a tiny piece of quartz crystal that vibrated faster and more steadily than either a balance wheel or tuning fork.
Seiko had worked on its new watch for a decade. In 1964 it had brought out a quartz timer for use in that year's Olympic games in Tokyo. Three years later it developed a wristwatch prototype. It was spurred on to the finish line by the fact that a consortium of Swiss firms had come up with a very accurate quartz movement of their own.
The Astron was different from the quartz watches of today. Its quartz oscillator vibrated at one-quarter the speed - 8,192 cycles per second versus 32,768. It didn't have a full-fledged integrated circuit, either, the way quartz watches do today but a hybrid one, halfway between a discrete and integrated circuit. It sold for 45,000 yen, about $1250 at the exchange rate of the time.
Seiko made just 100 35 SQ watches. They didn't work very well, and had to be recalled. In the long run that didn't matter. Astron had freed the quartz-watch genie. Thirty years later, watch companies are making more than 1 billion quartz watches each year.